BELLAMY: COVENTRY CITY CAREER EXAMINED
Welshman Craig Bellamy didn't want to join Coventry City when he did in August 2000, but he had no choice after Newcastle United stalled on making a bid for him. Coventry City offered a club-record £6m bid for Craig Bellamy and it was accepted by Norwich City.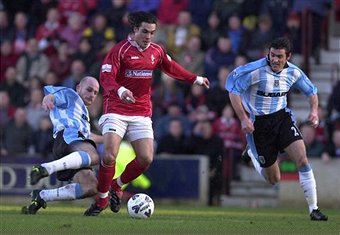 Despite his reluctance to sign for Coventry City, Bellamymet with manager Gordon Strachan without any agent. He attended the meeting with his financial advisor and the Welshman later revealed that he was pressured to sign for the Sky Blues after John Fashanu showed up and complicated things during the meeting. His financial advisor had earlier called Fashanu for advice on the potential transfer.
Craig Bellamy became a Coventry City player officially on August 16, 2000 as a like-for-like replacement for Irish striker Robbie Keane. His Premier League debut came during the 3-1 defeat to Middlesbrough. In the following Premier League game, Craig Bellamy scored from the penalty spot in a 2-1 win over Southampton.
Bellamy scored three league goals by the start of December 2000 including two penalties as he endured a poor start with Coventry City in the relegation zone. He scored the winning goal in the 1-0 victory over Leicester City during the game played on December 10, 2000 to bag three crucial points for Coventry City. His form improved following the arrival of compatriot John Hartson.
Coventry City suffered relegation at the end of the 2000/01 season despite the firepower of Craig Bellamy, Mustapha Hadji and John Hartson. Bellamy finished his only season at Coventry City with eight goals in 39 games in all competitions including six goals in the Premier League. He was also the joint leadinggoalscorer for the Sky Blues in the league with six goals alongside Hadji and Hartson.
Craig Bellamy was vocal about the fact that he didn't enjoy his time at Coventry City in subsequent interviews after leaving the club.